Manage sites
All sites are listed in the Sites page. From this page you will be able to create, update and delete sites. but also find and add information related to your sites.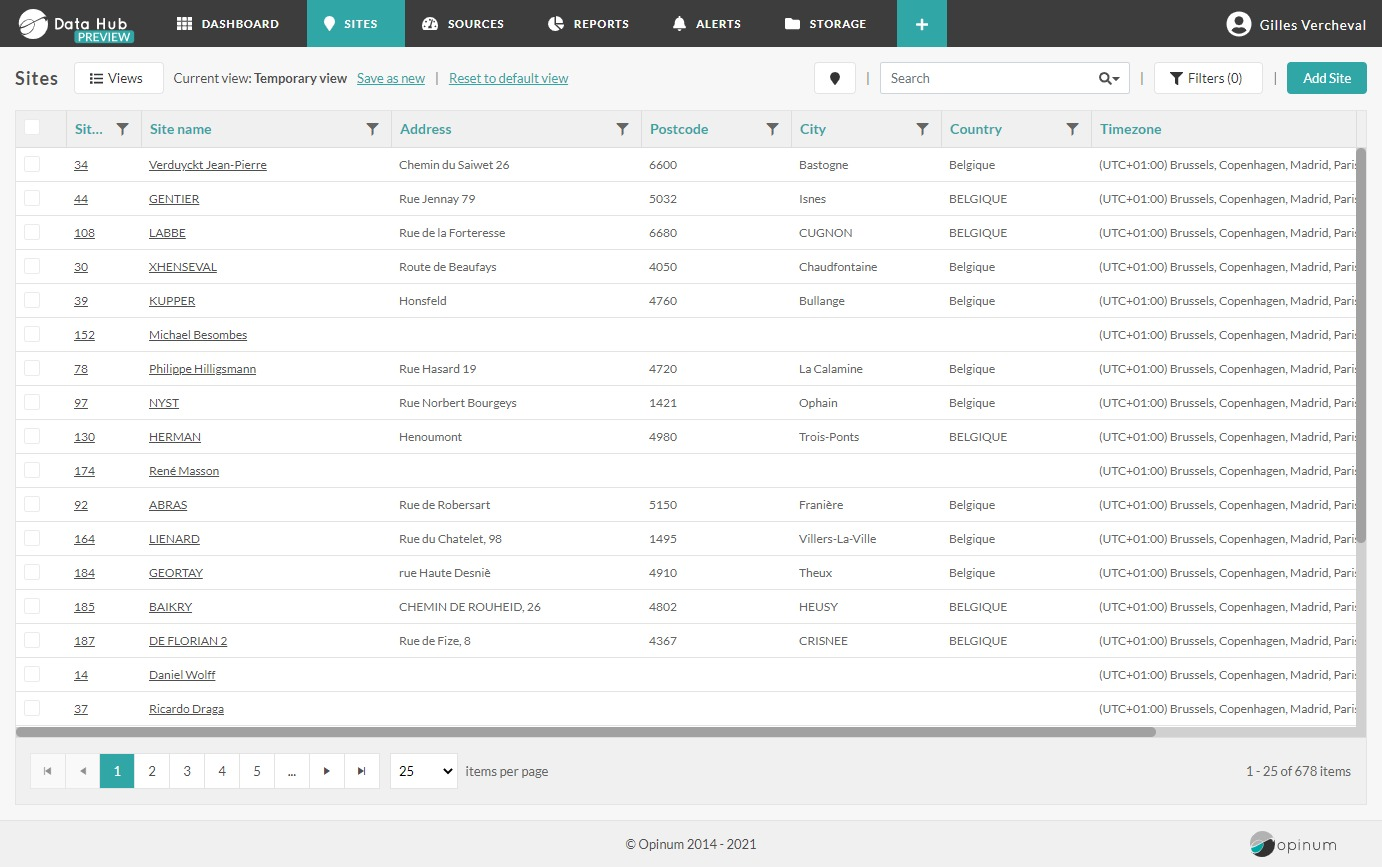 The Site details page is the hub of all the information related to the site: Dashboard, Information, Properties, Schedules, Reports, Events, Invoices.
Dashboard
Graphics can be added on you Site details page, to visualize the data of the sources of the building. The features are the same as on the Dashboards page.
Information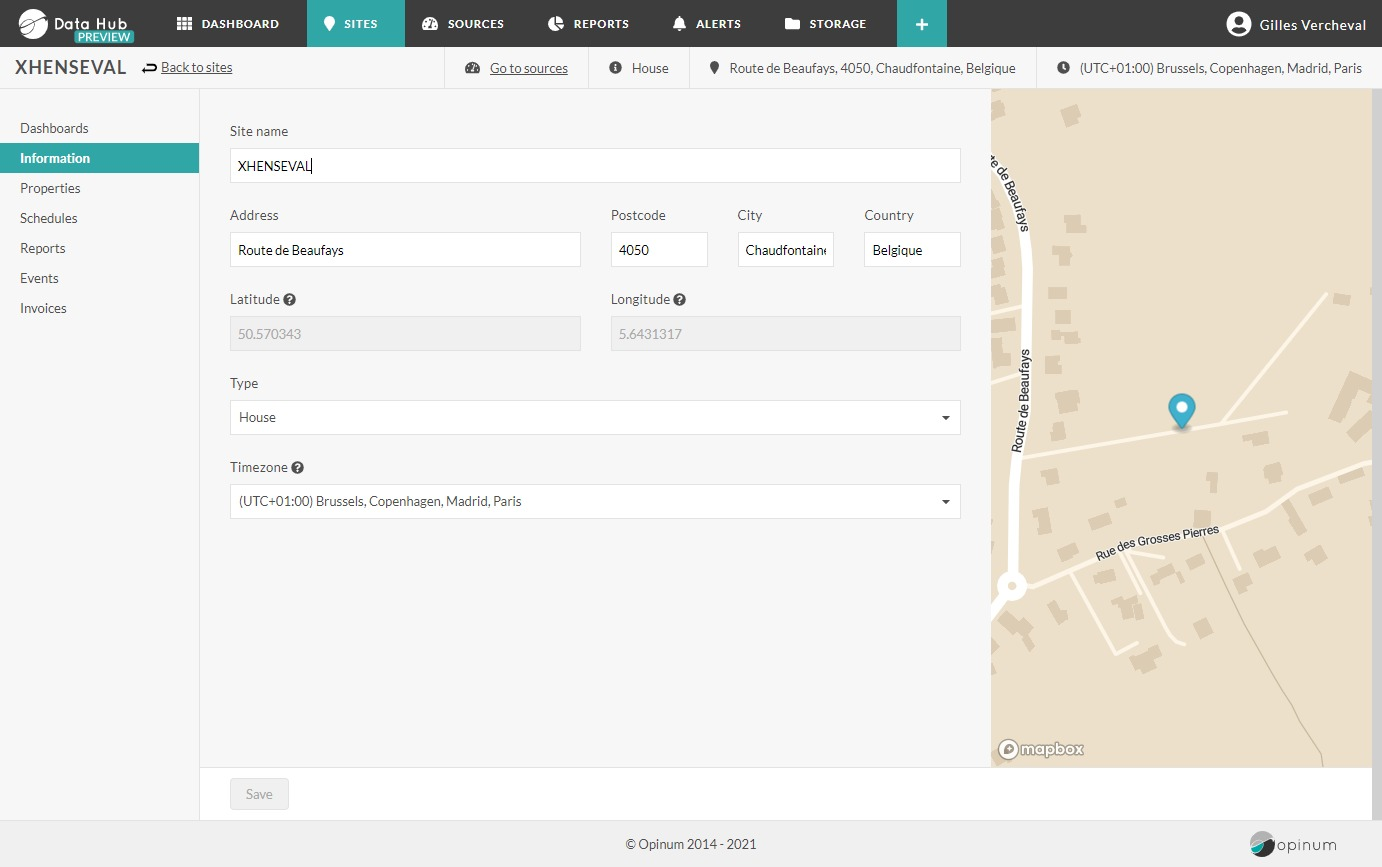 Here you can find all details about your site.
Building properties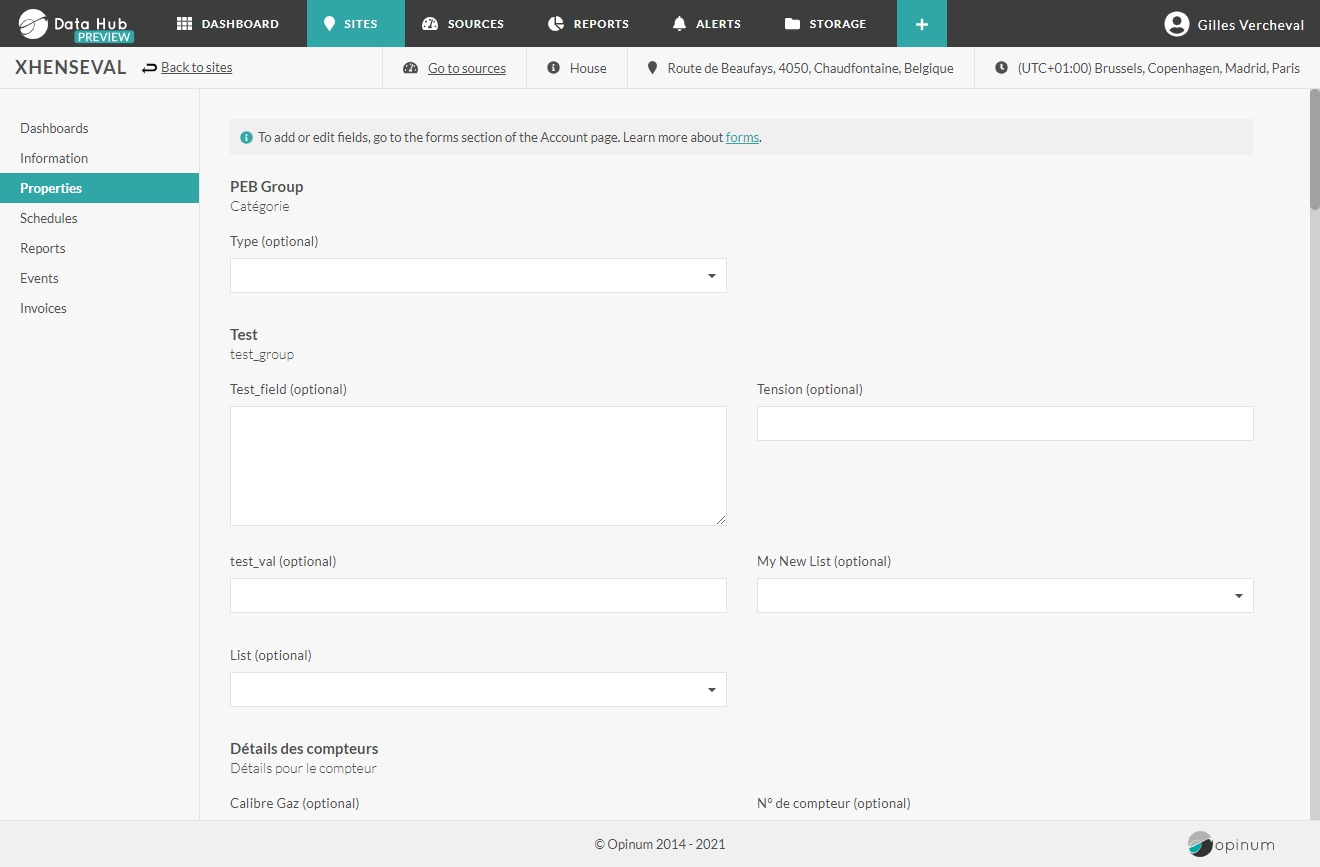 Sites are defined by their address and that you define at sources creation. The fields are the same for all accounts.
Beside of that, you can add account-specific parameters for both the Sites and the Sources of your account. These specific parameters are named Forms. Once forms are defined, they are displayed on the Building properties tab and can be filled.
Tip
Learn more about Forms
Sources
All the sources of the site are available by clicking on the Go to sources link. On this page you will be able to create and update sources, virtual meters (available soon), and enter index for manual index sources.
Schedules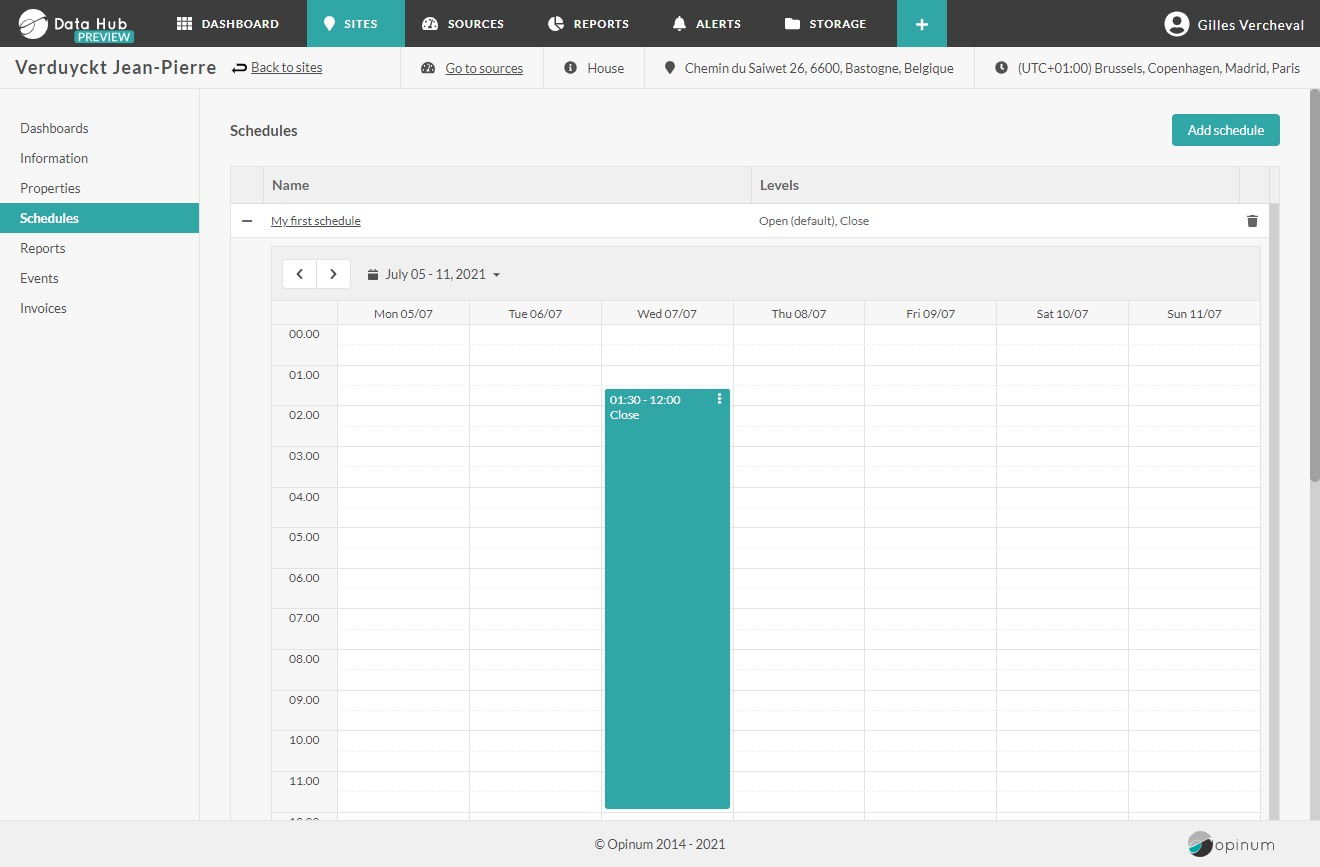 The schedules of the site can be managed on this tab.
Reports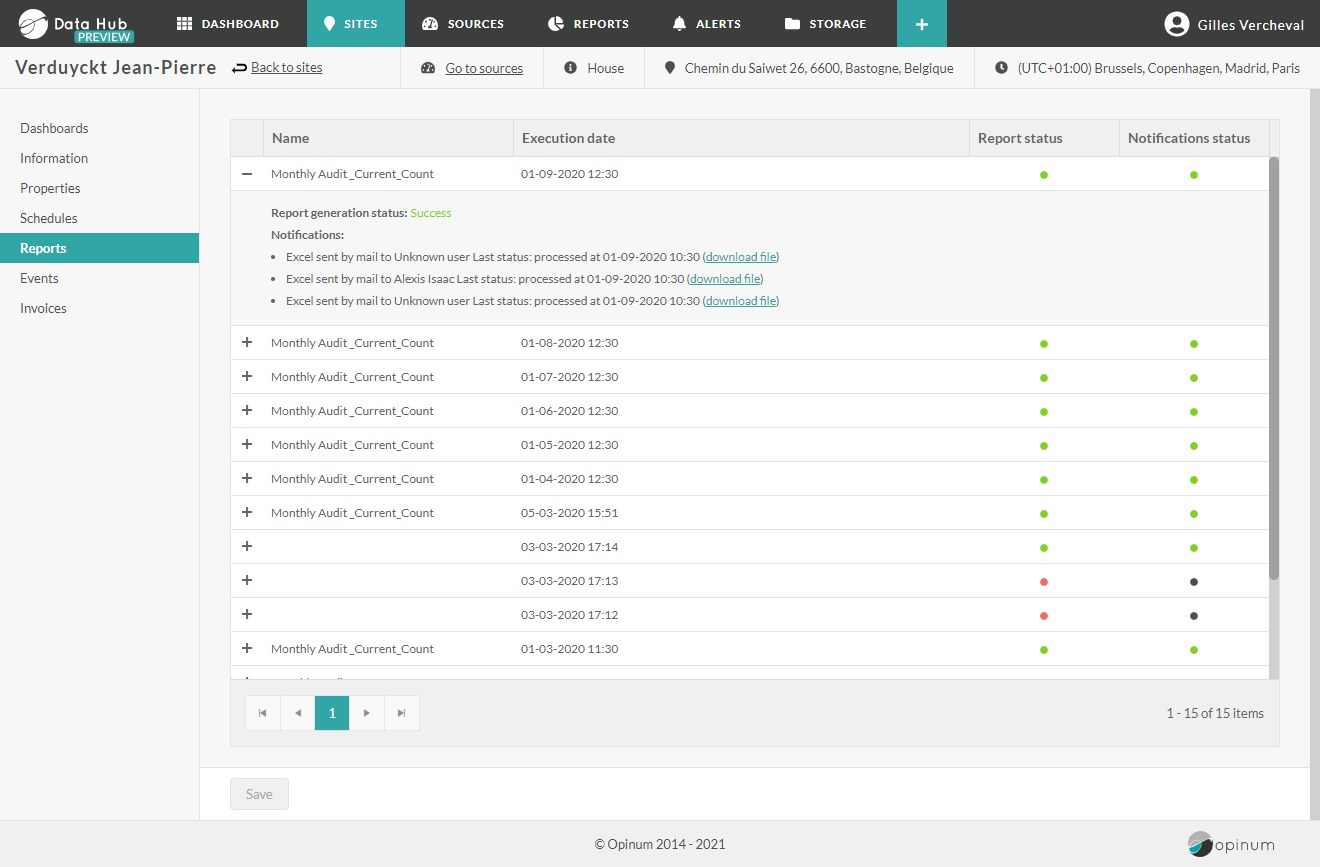 The Report history tab displays the history of all reports generated based on a source of this specific site.
Events
All the event of the sites are displayed and can be managed on the Event tab.
Invoices
Invoices can be uploaded and manage on the Invoices tab.
---
Important to know :
Authorization
There is two levels of users roles:
managers have access of all the sites and sources, and have creation, update and deletion rights
users have access only to specific sites and sources, and their permissions of creation, update and deletion are defined by feature.
To manage authorization go to Users and you will be able to grant access to a site to users.
Delete site
Go to sites pages and select which site you want to delete. The edit panel is displayed and click on the Delete icon button. A confirmation pop-up will appear. Click on the button Delete to delete the site.
Warning
If a site is deleted, all the information of the sites, the sources and data will be deleted as well. Those data can't be retrieved.